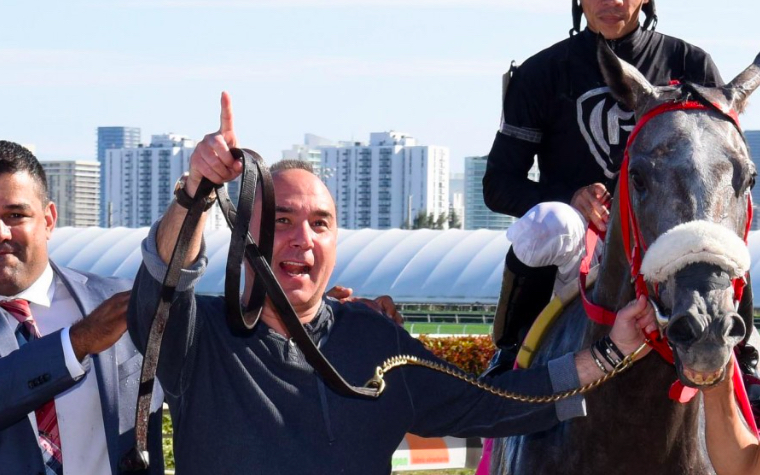 In horse racing circles, Ivan Rodriguez Gelfenstein doesn't stand out.
It is a sport of free-spending, uber-ambitious billionaires. And at a glance, Gelfenstein looks to be from central casting.
Three years ago, he built a $20 million, state-of-the-art 165-acre horse training facility in Ocala—named Gelfenstein Farms, of course—complete with 76 stalls, 22 paddocks, a half-mile training track and a mechanical treadmill. He flies in his own private jet and rubs shoulders with horse racing elite from South Florida to Dubai, where he'll be later this month for the Dubai World Cup, the world's richest horse race, with a purse of $30 million.
"My dream and goal is to race my horses at the best racetracks in America and produce some Triple Crown horses," Gelfenstein told Thoroughbred Daily News.
Competing on the track with Arab oil sheiks and self-made American billionaires looking for an elegant second act, Gelfenstein is seen as both a peer and an up-and-comer.
But the story of Ivan Rodriguez Gelfenstein is quite different. Because his first act is still playing out in his home country of Venezuela, where conspicuous frivolities of a sport like horse racing seem less than irrelevant. To be sure, his story begs more questions than answers.
From a socialist revolution to a capitalist's playground
Gelfenstein today has the public profile of a typical American entrepreneur, one determined to break in and establish himself in a competitive, high-stakes industry. But his background and family connections suggest his views are the polar opposite, rooted in virulently anti-capitalist socialist revolution spawned by former Venezuelan president Hugo Chavez.
Gelfenstein's brother, Mauricio Rodriguez Gelfenstein, is a longtime and powerful government figure in Venezuela, once a top aide to Chavez. Most recently, he was vice minister of foreign relations for Chavez's socialist successor, Nicolas Maduro.
A journalist by trade, Ivan's brother has been relentless in his defense of the socialist regime. He previously ran propaganda and communications for Chavez, once declaring that media owners in Venezuela opposed to the regime "deserve death."
"Do not be surprised if the government acts against some media that continue to practice (written) terrorism," he said.
While his brother Mauricio helped Chavez retain his grip on the nation, Ivan looked to capitalize financially. According to the Venezuelan Registry of Contractors, he began importing food products to the country in 2005 through his company, Comercializadora LGT.
It's here where Ivan crossed paths with another top Chavez bureaucrat, Major General Carlos Osorio.
The politics of a nation's hunger
Osorio formerly served as Venezuela's "Minister of Food," responsible for feeding a country whose productive capacity to feed itself was devastated by the socialist policies of Chavez and his replacement, current president Nicolas Maduro.
Osorio was also responsible for spreading state propaganda, convincing the people of Venezuela not to believe their own eyes, that food was plentiful and the state was filling the void.
In 2013, after touring the country, Osorio publicly announced that there was "a full supply of food in Venezuela." To counter first person reports and pictures suggesting otherwise, he released government-doctored photos of fully-stocked shelves in supermarkets.
Over the past 15 years, Chavez and Maduro seized land for the state from productive farmers and instituted price controls, both decimating Venezuela's agricultural sector and transferring power to government bureaucrats like Osorio, who became a hungry people's only hope. Now reliant on imports, only the state can afford food. And only those who supported the state-- and its "Chavista" regime-- were sure to get it.
Today, Venezuela is currently experiencing a massive food shortage that includes almost everything that a person can consume such as eggs, butter and milk. The government at this point is now telling people to begin growing their own food at their homes. President Maduro has said that even he and his family are trying to live by example, using their own chickens to produce eggs for his family's consumption.
Last November, Chavista opponents won control of Venezuela's congress. And now they're investigating Osorio, who local media report is set to be arrested for his involvement in a food importing corruption scandal. It's alleged that regime bureaucrats siphoned money into their own personal bank accounts, taking advantage of a subsidized government exchange rate available to favored contractors buying food and drugs.
Freddy Arenas: from Chavez inner circle to Gelfenstein Farms
The Jockeys Guild in 2014 described Gelfenstein as "originally from Venezuela . . . an international businessman [who] splits time between his native country and South Florida." The businessman has never publicly stated precisely what business he is in.
Although he has never explained how he made the fortune funding his horse racing empire, Gelfenstein is linked to various companies: Inversiones Rogelra LLC, GS Inversiones Hipicas LLC, Inversiones Gelfenstein Inc., and Digna Racing Stable Investments LLC. All these companies are registered in Florida.
Freddy Arenas, who currently works for Gelfenstein as the director of international relations of the Gelfenstein Farm, provides some clues.
Arenas is a Venezuelan national living in Florida. At one time, Arenas was the president of the state-owned Venezuelan pharmaceutical company Farmapatria. Here he worked for Osorio the then-Food Minister, leading government purchases of drugs that would be sold at a discount to citizens.
A press release once blared, "FARMAPATRIA provide access to medicines for all Venezuelans." A Google search of Farmapatria redirects to the Venezuelan government website.
Like Ivan's brother, Arenas was a member of the Chavez regime's inner circle.
The Venezuelan government is making a show of force in convincing the public that it is rooting out longtime corruption. This year the government arrested Army Major Juan José Ojeda for moving over 500 kilograms of cocaine. And just this week, the government is preparing an arrest warrant against Osorio, according to the newspaper Notipanda.com.
In the Venezuelan national assembly, the Comptroller Committee is undergoing a lengthy investigation into allegations of foreign exchange manipulation as well as fraud and abuse regarding the importation of food and medicine. The Democratic Unity caucus filed an official complaint naming eight high-ranking officials including Carlos Osorio, according to Diario Las Américas.
More News