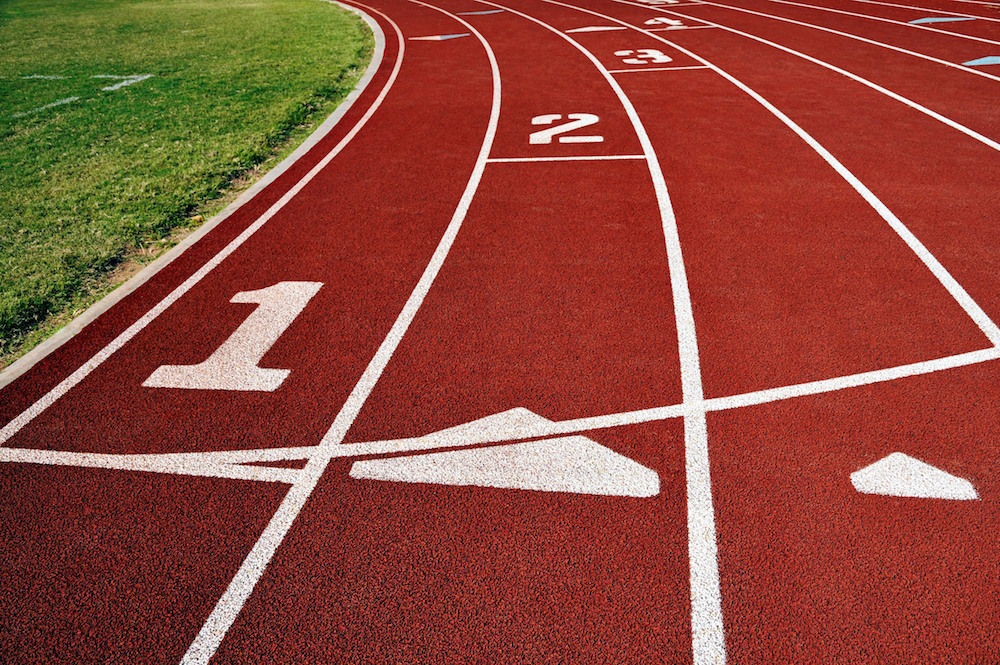 Just 1 percent of all college track & field athletes compete for schools in Florida, federal data shows.
The analysis includes colleges and universities that participate in federal financial aid programs report athletics data to the U.S. Department of Education Office of Postsecondary Education. The latest data includes more than 2,000 schools reporting participation numbers for 2016.
Florida schools reported having 211 college outdoor track & field players. In all, there are 20,436 competing for schools in the U.S., Puerto Rico, and District of Columbia.
--
Most popular states for college outdoor track & field
| | | | | |
| --- | --- | --- | --- | --- |
| | State | Men | Women | Total Players |
| 1 | California | 2,159 | 1,739 | 3,898 |
| 2 | New York | 1,030 | 876 | 1,906 |
| 3 | Iowa | 618 | 499 | 1,117 |
| 4 | Pennsylvania | 620 | 482 | 1,102 |
| 5 | Wisconsin | 437 | 461 | 898 |
| 6 | Ohio | 436 | 385 | 821 |
| 7 | Massachusetts | 455 | 353 | 808 |
| 8 | Illinois | 444 | 304 | 748 |
| 9 | Oregon | 380 | 318 | 698 |
| 10 | Texas | 326 | 271 | 597 |
| 11 | Minnesota | 232 | 311 | 543 |
| 12 | Indiana | 279 | 226 | 505 |
| 13 | Michigan | 242 | 257 | 499 |
| 14 | New Jersey | 263 | 217 | 480 |
| 15 | Georgia | 157 | 236 | 393 |
| 16 | Tennessee | 192 | 158 | 350 |
| 17 | Virginia | 177 | 147 | 324 |
| 18 | Maryland | 154 | 125 | 279 |
| 19 | Washington | 143 | 134 | 277 |
| 20 | Missouri | 118 | 130 | 248 |
| 21 | Kansas | 139 | 106 | 245 |
| 22 | Kentucky | 119 | 114 | 233 |
| 23 | Arizona | 156 | 76 | 232 |
| 24 | Oklahoma | 99 | 132 | 231 |
| 25 | Maine | 113 | 101 | 214 |
| 26 | Florida | 116 | 95 | 211 |
| 27 | Vermont | 110 | 101 | 211 |
| 28 | Puerto Rico | 123 | 83 | 206 |
| 29 | Mississippi | 120 | 80 | 200 |
| 30 | North Carolina | 91 | 105 | 196 |
| 31 | West Virginia | 113 | 74 | 187 |
| 32 | Nebraska | 103 | 83 | 186 |
| 33 | South Carolina | 98 | 85 | 183 |
| 34 | Alabama | 62 | 105 | 167 |
| 35 | Washington D.C. | 66 | 73 | 139 |
| 36 | Rhode Island | 50 | 78 | 128 |
| 37 | Louisiana | 57 | 62 | 119 |
| 38 | New Hampshire | 58 | 51 | 109 |
| 39 | Colorado | 23 | 54 | 77 |
| 40 | Utah | 0 | 67 | 67 |
| 41 | Connecticut | 27 | 39 | 66 |
| 42 | Montana | 28 | 29 | 57 |
| 43 | Idaho | 32 | 21 | 53 |
| 44 | South Dakota | 30 | 21 | 51 |
| 45 | Alaska | 28 | 20 | 48 |
| 46 | North Dakota | 26 | 20 | 46 |
| 47 | Arkansas | 28 | 17 | 45 |
| 48 | Nevada | 0 | 38 | 38 |
| 49 | Delaware | 0 | 0 | 0 |
| 50 | Hawaii | 0 | 0 | 0 |
| 51 | New Mexico | 0 | 0 | 0 |
| 52 | Wyoming | 0 | 0 | 0 |
Source: U.S. Department of Education Office of Postsecondary Education